Typhoon Jebi: a trail of destruction, Japan gets severely affected.
Japan has been hit by its most powerful storm in a quarter of a century. Typhoon Jebi has ranked the west of the country, killing at least 10 people. And leaving a trail of destruction to infrastructure.
In 2017, it handled 28 million passengers, three quarters of them from overseas.
One of the airport's two runways and the ground floor of a terminal building, used for sorting luggage and other activities, were under dozens of centimeters of water.
The airport's ground vehicles were partly submerged by the deluge, and the bridge was slammed by a 2,591-ton tanker that the storm unmourned. The boat can carry 110 passengers at a time. Public broadcaster NHK aired footage showing a huge crater in the bridge. Kansai Airport will not reopen on Wednesday.
A high-speed boat that links the airport with nearby Kobe Airport was making special runs on Wednesday morning to extract the stranded people. Kansai Airport's operator said buses may also be used in the effort, taking lanes not affected by the ship's collision with the bridge.
Kansai is the nation's third largest airport, after Tokyo gateways Narita and Haneda. Typhoon Jebi on Tuesday struck the heart of one of Japan's largest metro areas. As a result killed eleven people and shutting down Osaka's main international airport indefinitely.
The storm also shuttered shops, factories and amusement parks.
The storm was the strongest to make a direct hit on the nation's main islands in 25 years, causing high tides that flooded Kansai International Airport, a key gateway for flights from China. And other Asian countries that was built on an artificial island in 1994.
About 3,000 people, including passengers, were stranded there after an access bridge to the airport was damaged by a drifting tanker, and 700 flights were canceled across Japan.
Electronic components, such as semiconductors, were the top export at 1.29 trillion yen, while pharmaceuticals were the biggest import, at 690 billion yen. It is not known when the gateway might reopen.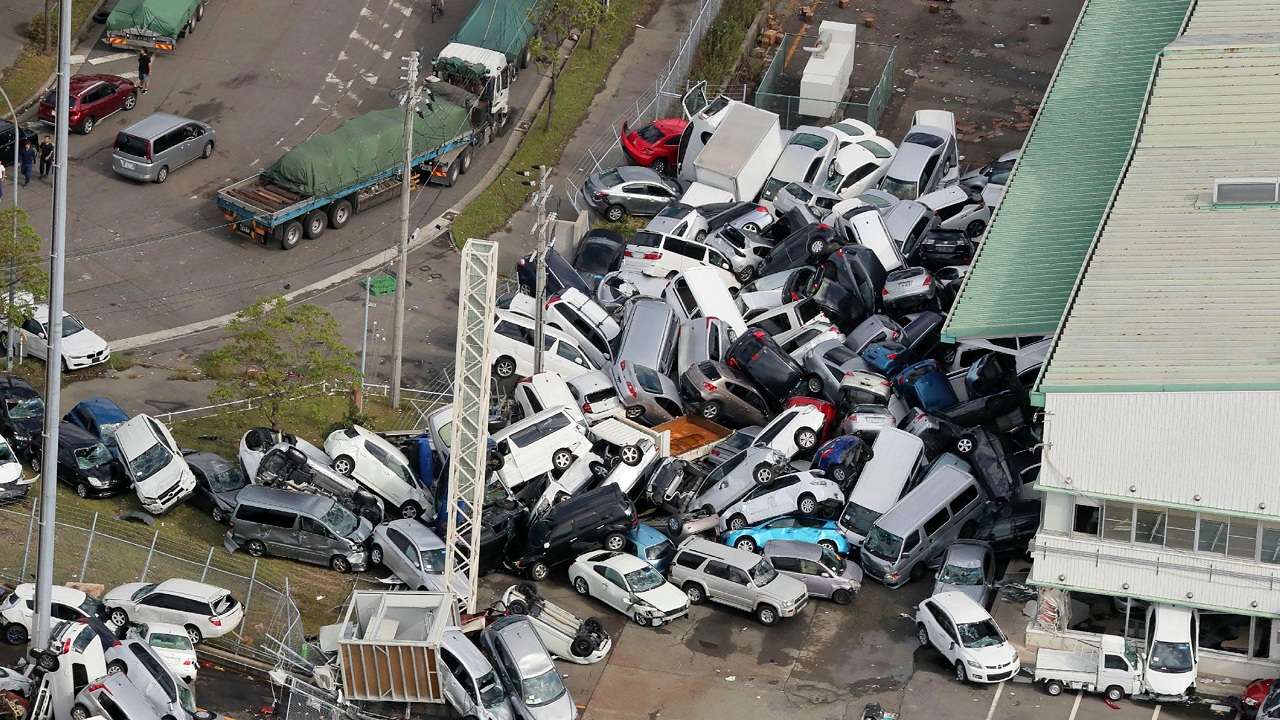 Repairing the bridge will take quite some time, according to West Nippon Expressway, the operator of the highway that runs across it.
Kansai Airport plays a significant role in Japan's distribution network, and the closure will severely disrupt supply chains, especially for semiconductors.
Last year, 5.64 trillion yen ($50.6 billion) in exports and 3.94 trillion yen in imports passed through the airport. The tanker had 11 crew aboard, and a helicopter rescue operation was underway.
The transport ministry said it has been unable to assess the full amount of damage to Kansai Airport and that no Japanese airport has reported such large-scale flooding in recent years.
Prime Minister Shinzo Abe's response,
"We are teaming with local governments and related agencies, who I want to exert every effort to prevent the damage from expanding," Prime Minister Shinzo Abe said Tuesday afternoon. In Tokyo at a meeting at the disaster response headquarters.
Also search for -> Typhoon Jebi: thousands stranded at island airport in Japan