Pak vs Ind : India won the match by 8 wickets
PAK 162 (43.1 Ovs)
IND 164/2 (29.0 Ovs)
Pak vs Ind: India won by 8 wkts
PLAYER OF THE MATCH
Bhuvneshwar Kumar
There are more games before that one though with Bangladesh facing Afghanistan tomorrow. Nevertheless, both sides will want to enter the next stage on a winning note. The game was touted to be a blockbuster, didn't quite turn out that way but not to worry. Pakistan will be seething for revenge and hopefully we get a more intense contest then. These two sides will be playing each other again on Sunday in the Super Four stage. Another inconsequential game as both sides have qualified and with the sidings pre-decided, the spots have also been fixed.
Biggest wins for Ind vs Pak (balls left):
126 Dubai. 2018 (Target: 163)
105 Multan, 2006 (162)
92 Toronto, 1997 (117)
Bhuvneshwar Kumar, Man of the Match: (On his performance)
Great to see Jadhav step up in the absence of Hardik Pandya. (On the extreme conditions) It's tough and hot, also the tracks are flat and not easy for the bowlers. It was a great bowling effort. Not easy for the bowlers. Key is not to give too many runs and force the batsmen to make mistakes. That's the best way to get them out. Always need initial wickets to get any team to a low total. (On adjusting to UAE pitches) On a track where the ball doesn't swing, that's the only thing you can do. Perhaps due to the heat, Hardik got injured as he was playing in England and couldn't adjust to the different conditions here. It's important to bowl back of a length and try to hit the stumps, give yourselves a chance. Great team effort.
Rohit Sharma, on the result of the match..
He (Jadhav) has been working on his bowling, takes his bowling very seriously. Every now and then, he has come and done the job for the team which augurs well. Bowling those crucial overs and taking wickets are bonuses for us. Especially when Hardik got injured, it was important for him to carry on and put the team into the right track. Quite enjoyed the little innings that I played, got out to a great delivery. Was important for us to come here and adjust. We haven't played here much and the two games that we have played now, we have understood how to create partnerships and achieve targets that we have set for ourselves. Opening partnership sets the platform for the rest to come and play freely, do their job. It was a fantastic finish by Dinesh and Rayudu as well.
Right from the start, we were quite disciplined. We wanted to learn from the mistakes which we made in the last game. Today was a great game for the bowling department because I knew the conditions weren't great for it. But we kept the conditions aside and did the job. We stuck to our plans. Lot of improvement from the last game, spinners kept it tight, got the odd breakthroughs. The bowlers took wickets early as well, in the first 10 overs which was magnificent. (On the early wickets) It was important to do that because they have quality in there, some of their guys have been scoring heavily. We wanted to make sure not to make things easy for them. We spoke about not giving room to the batsmen which was critical on this pitch where they can free their arms. The first few overs disciplined and the spinners took on from there. Once they had Babar and Malik, they had a partnership, we discussed that there is no need to panic, partnerships can happen. It was important for us to just stick to the plans which the guys did.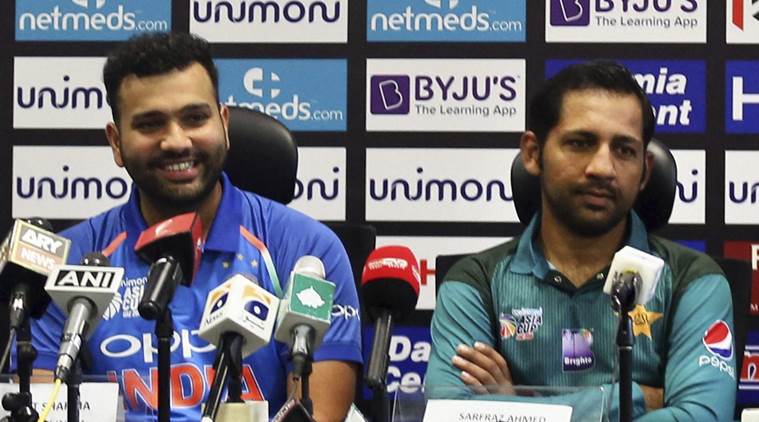 Sarfaraz Ahmed(Pakistan Captain) after the match :
The start was not at all good. We lost two wickets in the first five overs. We got some momentum in the middle but again lost wickets and could not recover. We batted poorly and all of us played poor shots to get out. And so many of them were soft dismissals except Babar, who got a good ball. We had prepared for the two spinners but the third one chipped in with wickets. It is nice to get a wake up call early on in the tournament and we would not want to commit the same mistakes. We will come back better prepared next time.