Earthquake in Japan: Another tragic natural disaster in the country.
Warning of aftershocks as 10 injured in 6.6 earthquake on northern island of Hokkaido, Japan.
Japan: About 10 people had been taken to hospital with injuries, one of them serious, it said. A powerful earthquake of magnitude 6.6 left residents trapped inside their homes as a landslide blocked roads, engulfed buildings and led to widespread power cuts on Japan's northern island of Hokkaido in the early hours of Thursday.
A landslide along a long ridge in the rural town of Atsumi could be seen in aerial footage from the public broadcaster NHK. Japanese media said two people had died and 32 were missing, but there were no official reports of fatalities.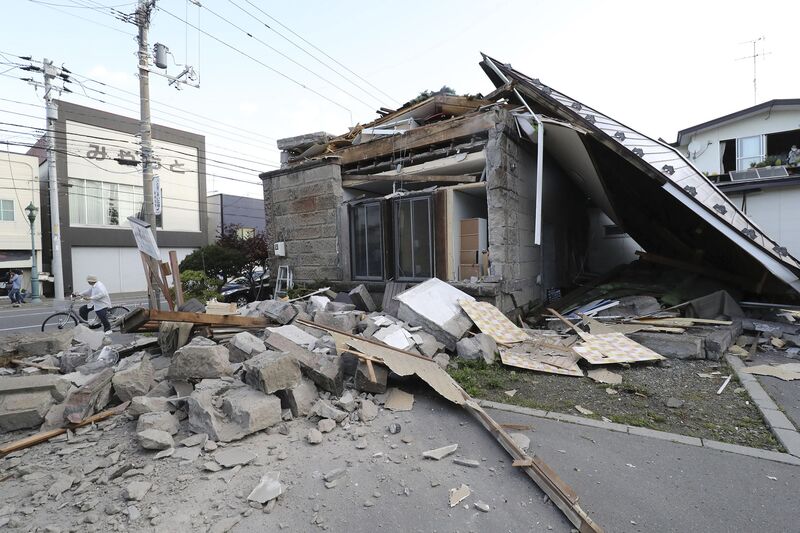 More than 150 people were injured by the quake, mostly in Sapporo, said Kazuya Isaki, an official with the Crisis Management Office of Hokkaido Prefecture Government. Dozens of people are missing in Atsuma, near the epicenter of the quake, where four of the deaths occurred.
Authorities have warned of possible aftershocks and urged people to remain cautious.
"Large quakes often occur, especially within two to three days [of a big one]," Toshiyuki Matsumori of the meteorological agency said according to news agency AFP.
"We urge residents to pay full attention to seismic activity and rainfall and not to go into dangerous areas."
The atomic regulator said the diesel generators have enough fuel to last seven days. The US Geological Survey said it had struck around 68 km (42 miles) south-east of Sapporo, Hokkaido's main city.
Prime minister Shinzo Abe told reporters his government had set up a command centre to coordinate relief and rescue. The station reported no irregularities and its fuel rods were cooling safely in a pool, operator Hokkaido Electric Power Co told NHK. The quake, which struck at 3.08 am local time did not pose a tsunami risk, the Japan Meteorological Agency (JMA) said. Saving lives was the top priority, he said.
The Tomari nuclear power station, shut since shortly after a massive 2011 earthquake was relying on emergency back up power after electricity was knocked out.
Japan was recently hit by Typhoon, called Typhoon Jebi. You can read it here => click here
Kazuo Kibayashi, 51, a town official at hard-hit Abira town, said: "There was a sudden, extreme jolt. I felt it went sideways, not up-and-down, for about two to three minutes."
"It stopped before shaking started again. I felt it come in two waves. I am 51, and I have never experienced anything like this. I thought my house was going to collapse. Everything inside my house was all jumbled up. I didn't have time to even start cleaning," he said.
"The electric supply was stopped to Tomari nuclear plant, but it can operate without external electric supply for one week," Chief Cabinet Secretary Yoshihide Suga said.
Seismologists have said another such quake could strike the city at any time. Japan, situated on the "ring of fire" arc of volcanos and oceanic trenches that partly encircles the Pacific Basin, experiences around 20% of the world's earthquakes of magnitude 6 or greater.
On March 11, 2011, a 9.0 magnitude earthquake, the most powerful ever recorded in Japan, struck under the ocean off the coast of the northern city of Sendai. The quake set off a series of massive tsunami that devastated a wide swath of the Pacific coastline and killed nearly 20,000.
The tsunami also damaged the Fukushima Daiichi nuclear power plant, leading to a series of explosions and meltdowns in the world's worst nuclear disaster for 25 years.
Saturday marked the 95th anniversary of the Great Kanto earthquake, which had a magnitude of 7.9 and killed more than 140,000 people in the Tokyo area.