BJP has attack on Congress for the Rafael Deal..
In the coming election of 2019  the Rafael deal can be the big point  for the BJP to attack on the congress  recently the BJP spokeperson  sumbit patra has said that the  Rafael deal was cancel  by  UPA goverment because the middleman not the vadra's friend as their was deal that the vadra friends copmany will play the role of the middleman for the deal but due to some reason the the contract was not given to vadra's friend so because of that the UPA has cancel the deal .
As the Robert vadra is going get the benifit from the deal beacause his friend was the playing the role f the middleman but later the deal was cancel beacuse the contract was not given to the robert vadra's friend ,,
According to the BJP spokeperson  sambit patra the vadra friend is sanjay Bhandari  and he said that the sanjay was having the turnover of  RS one lakh in 2008 and later withe hep of the vadra his company's was  thousand of cores and when the BJP goverment come in the power in 2014 this chain has broken the now the company of the dummy company of Sanjay has shutdown because BJP govt has taken proper action against the corruption and beacause of which they have to shutdown the company..
He also added that in 2016 the sanjay bhandri's  office and office was raided by the police they have have collected the document realted to the Rafael deal and he said that how this document reach to the vadras's friends house , Patra also showed several emails as evidence, in which the house of Sanjay Bhandari's relative Sumit Chadha informed about the house of 19 crore for Robert Vadra. The concerned Patna claimed that this house was bought in 2009.
The BJP spokesperson said that in 2012 the Swiss company Pilots Aircraft deal was held during the UPA regime. Conditions were also changed at that time to give tender to this company. Patra alleges that in that period Congress tender Swiss company pilates bypassing HAL.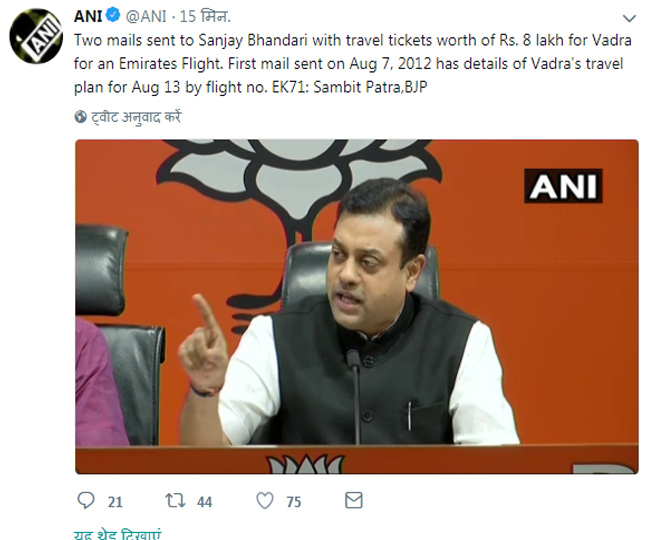 Patra informed the bank account that one million Swiss francs  Sanjay Bhandari got it. Money was given in the account number 52105058250 in Standard Chartered Bank. Patra alleged that Sanjay Bhandari and through him Vadra got the money.
He said that Sanjay Bhandari had sent an air ticket to Zurich for Vadra. At the time the deal was going, Vadra was going to Switzerland. Patra questioned whether Rahul Gandhi would answer that what did his brother-in-law do to go there?
Patra claimed that Sanjay Bhandari's company had tried Rafael Deal with Dasou, in partnership with a company. Dasu investigated Bhandari and refused to deal, hence the deal could not be done during UPA.