The first poster of Akshay Kumar's famous film Kesari has been released….
The first poster of Akshay Kumar's famous film Kesari has been released. This movie is based on the Battle of Saragarhi. In the film's new poster Akshay Kumar can be seen with his platoon, which is seen in Sikh avatar.
The film was being discussed for a long time. Parineeti Chopra will also play a key role in this film. Two posters of the film have been released. In one, Akshay Kumar himself is wearing a kesari rang turban. They also have their Ranbankura. There is also a tag line – 'Today is my turban too Kesari. Whatever is going to be, blood is also Kesari and my answer is Kesari '.
It is worth mentioning that recently the set of Kesari was set on fire. In which there was a loss of Rs 8 crores. Although the set was insured by insurance companies due to insurance. Kesari, being made in the direction of Anurag Singh, is the story of the war of 1857 in Saragarhi. In the film, Akshay Kumar plays Havdar Singh, who led the Indo-British Army at that time. This is the same film for which Salman had shown interest to produce but he later shifted. Film Kesari will be released on March 21, 2019.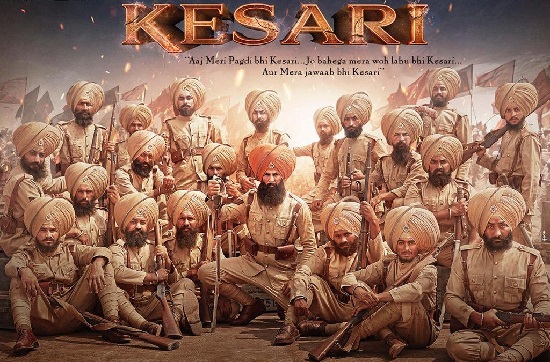 In the past, Akshay Kumar had reached the conviction of Spiti Cold Desert to shoot the film. During the shooting for 10 days in the valley, many Akshay Kumar took the blessing of happiness and prosperity by placing the forehead in various intellectual gompas. Akshay Kumar used to cycle mileage from Kaza and reach the plider of Spiti in the field. Akshay Kumar was very impressed with the proceedings of Spiti and returned to Mumbai after talking about developing the cold desert with the eyes of Bollywood. Ranjarki's rural Paljor Buddhist told that Akshay Kumar is a good man.