'Stree' Movie Review: Entertaining,scary, funny and unwieldy.
'Stree' Movie Review:
New Delhi: On the last day of August, two comedy films have been released together at the box office. Comedy movies have a great extent of guaranteed success in Bollywood and if you see box office records, then the comedy and horror of the box office often likes viewers at the box office. In this way, this week, horror-comedy cocktails have been brought by director Amar Kaushik with 'Stree' movie review, in which the pair of well-known artists like Rajkumar Rao and Pankaj Tripathi are seen together again. Interestingly, this film was released on Friday on the birthday of Rajkumar Rao. If you are planning your weekend this week, then I can definitely say that this film must be included in your plan.
Story:
     'Stree' is the story of Chanderi town, where almost every house is written 'ओ स्‍त्री कल आना' (O woman come tomorrow). In fact, in this city, there are four days every year for the worship of Goddess, and in these four days here comes the ghost of a woman who takes away the men of the city and leaves only her clothes left. Due to the fear of the woman, every man here is afraid to leave home at night for four days. This city has Vicky (Rajkumar Rao) who is a tailor. Vicky is so skilled in his work that he takes his measure after seeing the women and it is called Manish Malhotra of Chanderi. This Vicky receives a girl (Shraddha Kapoor) who comes to this village only in these four days of worship. Now you can go to the theaters to see whether this woman's shoe gets removed from this village or whether the man here will save anybody from the woman.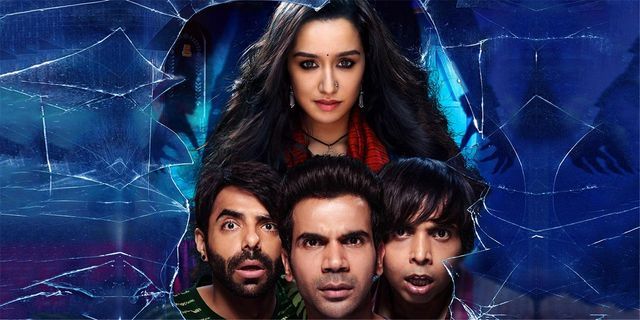 Review:
    This movie is based on strange but real event. From the first scene of the film, you will enjoy its horror style. But these swarm of men of a woman's spirit will laugh at you tremendously. Often there is nothing like logic in the horror-comedy films to make the audience laugh and scare away. But the biggest success of this film is that it is showing a strong subject in a fun way. The topic of honoring women and honoring their wishes has been shown in this film as well as laughing and laughing quite accurately. The movie is not deviating from its subject and line anywhere, which is a good thing.

Comic Timing:
      Talking about acting, Rajkumar Rao is a tremendous actor, he has proved to be so far ahead of many films. But whenever he is seen, he has completely refresh the role. In this movie you will also see 'Vicky' more than Rajkumar. Their comic timing is tremendous. At the same time Pankaj Tripathi has a fun look and in the film, he is also very impressive. As seen by Vicky's friend, Aparashakti Khurana and Abhishek Bannerjee have also been seen to have done their full justice in the film with their characters. Shraddha Kapoor has appeared very beautiful in 'Woman'.
Cast: Rajkumar Rao, Shraddha Kapoor, Pankaj Tripathi, Aparashakti Khurana, Abhishek Banerjee
Director: Amar Kaushik